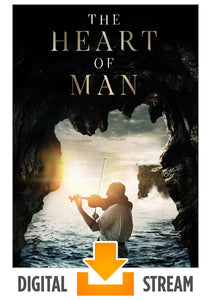 Available Worldwide

Buy Includes Forever Access Stream/Download
Rental Includes 3-Day Stream Window

English Subtitles

AirPlay & Chromecast Enabled

Redemption Link Sent After Purchase
The Heart of Man is a story inviting the sons and daughters of God to leave behind our broken, moralistic and religious way of thinking and relating to God and to others. Once we begin to know who God is (and as a result who we are), we have something to invite the world into. Freedom from performance. Freedom from managing our behavior so we appear acceptable to God. Freedom from our addictions, compulsive behaviors, secrecy and double lives. This film tears the veil of confusion over the church's current identity crisis and enables it to invite the rest of the world to the banquet God is throwing all of us. The film features emotional interviews with real people going through their mess and subsequent healing, and includes expert witnesses of such men as William Paul Young, author of the NY Times best-selling novel The Shack, Dan Allender, Ph.D, author of The Wounded Heart and Spoken Word Artist Jackie Hill Perry. All of that is interwoven with a production-rich prodigal son narrative story shot in Hawaii.