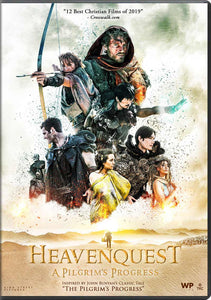 Heavenquest: A Pilgrim's Progress is a unique prequel story, inspired by John Bunyan's classic, that takes place before Christian's journey in the original tale.

A regal man named Vangel is thrust on a journey against his will when he is suddenly and mysteriously arrested. Injured and lost after escaping the dark king's men, Vangel begins to have strange dreams and visions of a mysterious woman in white calling him from the unknown territory of the North. Armed with a book called "The Record of the Ancients" that he receives from a wise sage named Elder, Vangel embarks on an adventure that takes him through treacherous mountain range, unending deserts, the Lake of Doubts, and the Forest of No Return. Along the way, Vangel learns about a fabled good king and his son in the North, but first he must make it there alive.
Special Features: Director's Commentary, Trailers, BTS Featurette, Original Concept Film & Deleted Scenes, *** Subtítulos en español & 한국어 자막 ***

View Discounts, Digital, & Bundles


The World of Heavenquest
Because Heavenquest is inspired by the classic book, and is a prequel, there are some symbolic crossovers between the stories. There are places that appear in the original, although names might be altered to fit our narrative. The City of Destruction in not mentioned in Heavenquest but was placed in the world for the potential follow-up film, Christian's story. The Town of Deeds (Formally Mt. Sinai overlooking the town of Morality) is a place where Vangel thinks he can work off his burden. In the original, it is more about "Following the Rules."
Why Make A Pilgrim's Progress Prequel?
We felt that Pilgrim's Progress had been done multiple times both in animated and feature film form. We decided early that we wanted to build a world based on Bunyans' work where we could tell all sorts of stories including the Christian and Christiana stories from the original at a later time. There are many unique characters in Bunyan's books, so we wanted to explore that more. We tackled Evangelist (Vangel), Help (Ezera) as well The Great Heart (Elder) in Heavenquest, this first part of the greater story.
Audience Reactions

"The message of love and redemption comes through loud and clear."
- Debbie B.

​"I was held captive from beginning to end!"
- Lavay B.​

"I felt the Holy Spirit so strong in certain parts that it had me in tears."
- Launi B.​

"I specifically liked that the movie didn't just lay everything out for you like I've seen a lot of Christian films do."
- Anthony B.​

"The symbolism moved my heart. Powerful!"
- Daniel H.​

"This is definitely a film worth watching again."
- Jason H.​

"I've watched this three times within a weekend."
- Christina C.