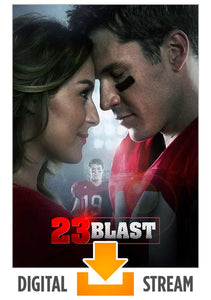 Available Worldwide

Buy Includes Forever Access Stream/Download
Rental Includes 3-Day Stream Window

English Subtitles

AirPlay & Chromecast Enabled

Redemption Link Sent After Purchase
23 Blast is based on the amazingly true story of Travis Freeman. A typical teenager growing up in a small town in Kentucky, Travis is a local hero on and off the field. In the prime of his youth, he is unexpectedly stricken with an infection that destroys his optic nerve, blinding him overnight. With the support and influence of his parents, physical therapist, coach, and best friend, Travis displays true bravery by competing on the gridiron, helping his team advance to the State playoffs. We follow Travis and his closest friend, Jerry Baker, from the time they meet on the football field as kids through high school. Jerrys attraction to the dark side of adolescent temptations threaten to pull the friends apart. It is only on the football field where they truly connect.
Starring Steven Lang (Avatar), Alexa Vega (Spy Kids), Mark Hapka (Days of Our Lives), & Max Adler (Glee)
"A powerful movie about football and perseverance. The whole family will enjoy!" - Tony Dungy, Super Bowl Winning Coach & All Pro Dad National Spokesman