Browse More Options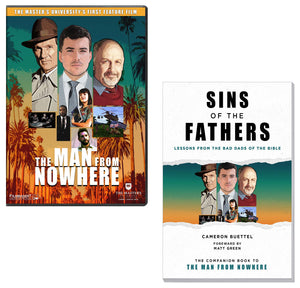 Get the DVD & Companion Book for one low price!

New York Times best-selling author (Nick Searcy) pens his final book in an attempt to reconnect with his estranged son Jake (Seth Bowling) before it's too late. His novel, The Man From Nowhere, spins a noir tale of detective Johnny Gamble (Anthony Tyler Quinn) desperately searching for a lost son who has turned to a life of crime. Fiction and reality begin to blur for Jake as he finds himself interacting with both detective Gamble and his father, now a Christian, who shows up at his door and refuses to leave until the two can heal from their painful past.
Includes English Subs & CC. Runtime 80min. Special Features: Commentary with Director Matt Green, Director of Photography Jefferson Henson, and Editor Peter Shickle.
Sins Of The Fathers: Lessons From The Bad Dads Of The Bible - Book
Read the companion book to THE MAN FROM NOWHERE, the first feature film from The Master's University.
Parenting is never easy. Nobody in this fallen world has mastered it. And when it comes to raising children in the fear of the Lord, fathers shoulder the greatest biblical responsibility—being accountable to God as the heads of their homes (Eph. 6:4; 1 Tim. 3:4–5). The need to learn and grow in the role of fatherhood never ceases, and Scripture is our richest source of parental wisdom. It offers clear instructions and furnishes us with powerful examples. And it's not just the good dads that we can learn from—in fact, the bad dads of the Bible may well teach the most profound lessons of all...