Browse More Options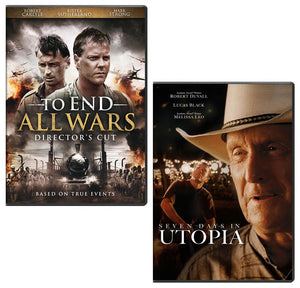 Get two great movies for one great price!
To End All Wars: Director's Cut - DVD
A true story about four Allied POWs who endure harsh treatment from their Japanese captors during World War II while being forced to build a railroad through the Burmese jungle. Ultimately they find true freedom by forgiving their enemies.

Starring Kiefer Sutherland, Mark Strong, Robert Carlyle, & Ciaran McMenamin. 121 minutes. Rated R for war-related violence.
Seven Days In Utopia - DVD
Luke Chisolm (Lucas Black) has the drive to become a professional golfer. Just when he's on the verge of going pro, however, he buckles under the pressure. In the aftermath of that crushing disappointment, Luke vanishes from the spotlight, uncertain if he'll ever return to the game again. Luke is driving through Texas when he crashes his car in the town of Utopia, and strikes up a friendship with Johnny Crawford (Robert Duvall), a rancher who knows more about the game of golf than the troubled young visitor realizes. Now, the more time Luke spends with Johnny, the more he begins to see life from a new perspective -- a perspective that will not only help Luke to make sense of where he's been in life, but where he's headed as well.