Browse More Options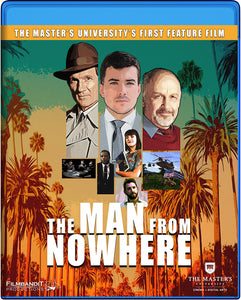 New York Times best-selling author (Nick Searcy) pens his final book in an attempt to reconnect with his estranged son Jake (Seth Bowling) before it's too late. His novel, The Man From Nowhere, spins a noir tale of detective Johnny Gamble (Anthony Tyler Quinn) desperately searching for a lost son who has turned to a life of crime. Fiction and reality begin to blur for Jake as he finds himself interacting with both detective Gamble and his father, now a Christian, who shows up at his door and refuses to leave until the two can heal from their painful past.
Includes English Subs & CC. Runtime 80min. Special Features: Commentary with Director Matt Green, Director of Photography Jefferson Henson, and Editor Peter Shickle.
"The film shows a beautiful picture of the healing and restoration that can happen between a father and son." - Jason Noble, Advance Team Films
"Cinematically beautiful and incredibly creative in its use of the dual storylines, 'The Man From Nowhere' has shown the power it has to move people." - Rev. Jacob Sahms, Dove.org
"I love a great redemption story! This movie combines my favorite themes... changed hearts, forgiveness and relationships redeemed." - Mario D'Ortenzio Founder, Death2Life
"Under the sensitive direction of Matt Green, 'The Man From Nowhere' explores that central human problem—reconciliation after pain." - Dr. Grant Horner, Author, Meaning at the Movies 
Want to see more?
Check out some clips from the movie below!