Browse More Options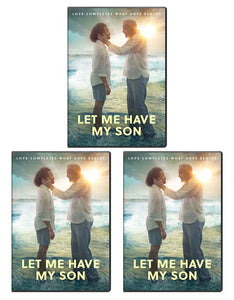 Get 3 copies of LET ME HAVE MY SON for 20% OFF
Ben Whitmore Sr. is awakened early one morning to learn that his son, Benny, after years of treatment for schizophrenia, is ready for discharge from Middlemouth Security Hospital. Giddy with excitement, Ben travels to Middlemouth to bring Benny home. Instead, he discovers that Benny has gone missing, triggering an increasingly desperate search for answers within the labyrinthine hospital complex.
Keeping at times just one step ahead of Middlemouth orderlies, Ben meets a colorful assortment of patients along the way, many of them Benny's friends. He takes time to share with them the fuller story of Benny's struggles and the patients warm to Ben as one of their own. Ultimately, however, when it comes to finding Benny and bringing him home, Ben comes to the sobering realization that he cannot complete the task.
That is no reason, however, to give up hope… as Ben soon discovers.
Audio: English 5.1, Spanish 5.1, English Stereo Audio Commentary
Subtitles: English (SDH), Spanish, Dutch, French (SDH), German (SDH), Portuguese, & Romanian (SDH)
Bonus Features: Behind The Scenes • Deleted Scenes • The True Story Behind The Film The Puzzle Factory: Where It All Began • Director's Commentary • Trailers
REVIEWS & ENDORSEMENTS
"An emotional, sometimes nightmarish, but ultimately redemptive and inspiring journey into the world of mental illness." - Movieguide