Browse More Options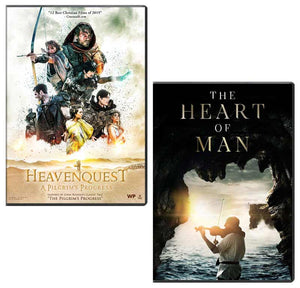 Get two movies for one great price!
Heavenquest: A Pilgrim's Progress - DVD

This is a unique prequel story, inspired by John Bunyan's classic, that takes place before Christian's journey in the original tale.

A regal man named Vangel is thrust on a journey against his will when he is suddenly and mysteriously arrested. Injured and lost after escaping the dark king's men, Vangel begins to have strange dreams and visions of a mysterious woman in white calling him from the unknown territory of the North.
Armed with a book called "The Record of the Ancients" that he receives from a wise sage named Elder, Vangel embarks on an adventure that takes him through treacherous mountain range, unending deserts, the Lake of Doubts, and the Forest of No Return. Along the way, Vangel learns about a fabled good king and his son in the North, but first he must make it there alive.
Special Features: Director's Commentary, Trailers, BTS Featurette, Original Concept Film & Deleted Scenes, *** Subtítulos en español & 한국어 자막 ***

The Heart of Man - DVD

This is a story inviting the sons and daughters of God to leave behind our broken, moralistic and religious way of thinking and relating to God and to others. Once we begin to know who God is (and as a result who we are), we have something to invite the world into. Freedom from performance. Freedom from managing our behavior so we appear acceptable to God. Freedom from our addictions, compulsive behaviors, secrecy and double lives.
This film tears the veil of confusion over the church's current identity crisis and enables it to invite the rest of the world to the banquet God is throwing all of us. The film features emotional interviews with real people going through their mess and subsequent healing, and includes expert witnesses of such men as William Paul Young, author of the NY Times best-selling novel The Shack, Dan Allender, Ph.D, author of The Wounded Heart and Spoken Word Artist Jackie Hill Perry. All of that is interwoven with a production-rich prodigal son narrative story shot in Hawaii. Bonus features include: Behind the Scenes, Roundtables