Browse More Options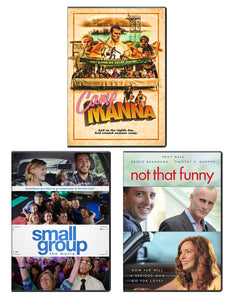 Get 3 Movies on DVD for 40% OFF ($10.99 each)!
Camp Manna - DVD
A stylistic throwback to the summer camp films of the 80s and 90s, CAMP MANNA is the story of a Christian camp turned upside-down by the arrival of the wayward "new kid," 15-year-old Ian Fletcher. CAMP MANNA blends hilarious comedy with loving nostalgia. This "satire with soul" reminds us that sometimes getting to the heart of our faith is best told with laughter.

Starring Gary Busey, Jimmy Tatro, and Joey Morgan.
Small Group - DVD
A filmmaker and his wife move across the country to make a documentary about Christianity's decline. To "pull back the curtain," they use a hidden camera and go undercover at a local small group. As their relationship with the group grows, negative assumptions about Christian people and the Church break down, putting them in an awkward position. How will their new friends respond when the truth is revealed?

 
Not That Funny - DVD
A love story about a woman who "just wants someone who makes her laugh" and a man who is not that funny. As he tries to learn how to be the man she says she wants, they each find an unexpected chance at happiness.
Starring Tony Hale (Arrested Development, Veep) and Brigid Brannagh (Army Wives).