Browse More Options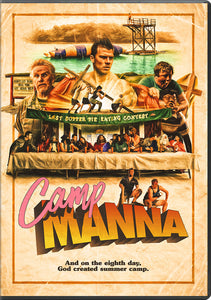 CAMP MANNA blends hilarious comedy with loving nostalgia. This "satire with soul" reminds us that sometimes getting to the heart of our faith is best told with laughter.
Want Digital instead?
A stylistic throwback to the summer camp films of the 80s and 90s, CAMP MANNA is the story of a Christian camp turned upside-down by the arrival of the wayward "new kid," 15-year-old Ian Fletcher. Ian lives with his well-meaning Christian aunt and uncle who ship him off to Camp Manna, a Christian camp soaked in baffling religious subculture centered around the God Games, a Biblically-themed Olympiad. As a "non-believer," this is the last place in the world Ian wants to be. After bunking up with the Passover Privates, a cabin of outcasts and misfits, and their zealous counselor Bradley, Ian is introduced to Clayton, the cool and chiseled counselor of the Righteous Regiment. Ian wants to ditch Bradley and join up with Clayton, but as the God Games unfold and his fears are revealed, he realizes that Clayton may not be all he claims to be, and his new friends might not be so bad after all. Can Ian overcome his fear and embrace faith? (87 min)

Starring Gary Busey, Jimmy Tatro, and Joey Morgan.
Includes English CC & Subtitles. Bonus Features include: The Camp Experience, Clayton vs. Bradley, The Passover Pirates, Making The Chariot Race, Camp Appropriate Dance Moves, and Busey-isms.