Browse More Options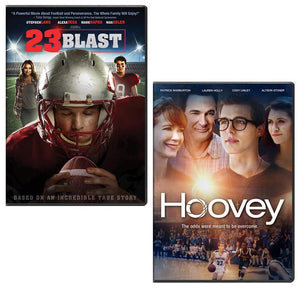 Get two sports movies for one great price!
23 Blast - DVD
A typical teenager growing up in a small town in Kentucky, Travis is a local hero on and off the field. In the prime of his youth, he is unexpectedly stricken with an infection that destroys his optic nerve, blinding him overnight. With the support of those around him, Travis displays true bravery by competing on the gridiron, helping his team advance to the State playoffs.

Starring Steven Lang (Avatar), Alexa Vega (Spy Kids), Mark Hapka (Days of Our Lives), & Max Adler (Glee)
"A powerful movie about football and perseverance. The whole family will enjoy!" - Tony Dungy, Super Bowl Winning Coach & All Pro Dad National Spokesman
Hoovey - DVD
Believing makes it possible. Faith makes it real. HOOVEY is the inspiring and true story of a Midwestern basketball family that, with God's help, stayed in the game and won. When promising high school basketball player Eric "Hoovey" Elliott collapses on the court, doctors discover a life-threatening brain tumor. Hoovey will survive the high-risk surgery, but at what cost? Can he relearn to walk, read, even to see clearly? The road is long, and meanwhile overwhelming medical bills threaten to undo everything his parents, Jeff and Ruth, have taken a lifetime to build.

With seemingly no one to turn to—but with tenacity and love born of faith—an entire family regains its footing. Hoovey learns to read again, to dribble and shoot a basketball and, finally, stepping out in faith, he's back on court for another shot at his dream...

HOOVEY is inspired by the true story of an amazing family's real-life rebound, based on the book, "Rebounding From Death's Door", written by Jeff Elliott.
Starring Patrick Warburton (Seinfeld, Rules of Engagement), Lauren Holly (Picket Fences), Cody Linley (Hannah Montana), & Alyson Stoner (Phineas and Ferb)
"HOOVEY is a terrific movie about overcoming life's difficulties and hardships. This is a heartwarming movie. This heartwarming story easily earns our Dove 'Family-Approved' Seal for all ages." - The Dove Foundation
"HOOVEY is a story about holding onto faith even during the toughest of circumstances, and we see the Elliotts' faith at every turn." - PluggedIn