Browse More Options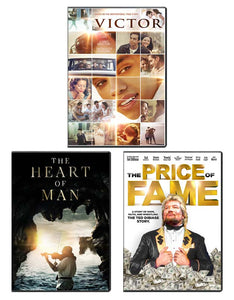 3 great movies for 1 great price!
Victor - DVD
The inspiring TRUE STORY of Victor, a teen from Puerto Rico forced to survive the streets of 1962 Brooklyn. He finds freedom through the love of his mother and the faith to overcome impossible odds.
- Audio Features 5.1 English & 5.1 Spanish.
- Includes English CC & Spanish Subtitles.
The Heart of Man - DVD
A powerful documentary inviting the sons and daughters of God to leave behind our broken, moralistic and religious way of thinking and relating to God and to others. Once we begin to know who God is (and as a result who we are), we have something to invite the world into. Freedom from performance. Freedom from managing our behavior so we appear acceptable to God. Freedom from our addictions, compulsive behaviors, secrecy and double lives. This film tears the veil of confusion over the church's current identity crisis and enables it to invite the rest of the world to the banquet God is throwing all of us. The film features emotional interviews with real people going through their mess and subsequent healing, and includes expert witnesses of such men as William Paul Young, author of the NY Times best-selling novel The Shack, Dan Allender, Ph.D, author of The Wounded Heart and Spoken Word Artist Jackie Hill Perry. All of that is interwoven with a production-rich prodigal son narrative story shot in Hawaii. Bonus features include: Behind the Scenes, Roundtables
The Price of Fame - DVD
Ted DiBiase Jr. takes a journey through pro-wrestlings past to tell the faith-based story of his father's rise, fall and redemption. THE PRICE OF FAME explores the life of Ted Dibiase, "Million Dollar Man" and his family. They built a Legacy in the ring, but the lasting impact will be felt for generations outside the ring. Discover what THE PRICE OF FAME was for Ted, and what he found that changed everything, something Priceless.